It's a fact that 90% of eBay sellers don't know how to sell in order to get REAL results.
The professionals know though and that's where I've learn't how to write and sell my items. Just one method gave me 4 times the amount of sales I'd previously made in 6 months.
Here for you are the 37 methods that I've found to produce real results.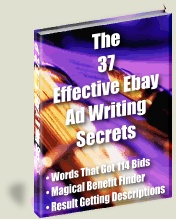 In pdf file format readable using Adobe Acrobat Reader software.
The Adobe Reader program is available here free if you do not already have it on your computer.
'The 37 Effective Ebay Ad Writing Secrets'
By Ian Stables
Internet Marketer and Ebayer
You'll discover 37 powerful secrets of writing an attractive listing that will compel people to bid on your eBay auction. These are the techniques I've found to work after my long search and testing.
Simply follow the easy instructions and in record time, type result getting auction titles and highly persuasive auction descriptions. Paste them into eBay and wait for the results.
Using just one method will give you results. But the more you use the more you'll get.
Some of what you'll discover...
How to make ANYONE want your item using the ultimate presentation technique by far.
Used by all the top internet sellers because it's the best way to present your product.
How to make people see the REAL BENEFITS of having your item with a magic question.
This makes me think of selling points that I would otherwise never have thought of.
Craft a title 7 times more powerful than normal using the ideal headline formula.
Attract maximum bids with the same words that attracted over 114 bids on one eBay auction.
How to make your item look better than the competitions with one word.
The proven selling words you can throw in your auction to attract more buyers.
These are used by any successful seller because they know their power.
The PROVEN SECRET to doubling the pulling power of any auction.
One move that gets any auction title 27% more interest.
How to get 22% more sales by adjusting your price.
Just one thing make can a difference.
How you can use the power of authority to sell your item.
Everyone does what they're told!
How to bring buyers from the web for free. Most popular way.
And much, much more!
Also you get this eye-opening report...'The Easy Method That Beats The Competition'

Email from radio presenter Roy Norry
"I thought I knew it all! Having been a local radio producer/presenter for 23 years I have had a hand in, and listened too many thousands of advertising pitches.

Imagine my amazement to find I actually knew very little. Yet in 15 minutes of reading your e-book I am more enlightened now than with 23 years in the trade." http://www.roynorry.com/co-profile.htm
To start writing auctions using the methods that really do work...
click the 'Buy Now' button
Pay the safest way using Paypal.